Convenient Connecticut Home Automation With Pyng™
Enjoy the convenience of a home automation system in Stamford, Darien and nearby
Learn about what the Pyng™ home automation system can do for you.
From our collection of remote controls, to the thermostat, to the small remote control that comes with some digital cameras, your home is cluttered with a series of unconnected controllers. For most homes, the burden of setting these controls is on the homeowner. Turning down the heat, switching off the lights, and watering the yard becomes the homeowner's responsibility.
What if your home knew automatically when to turn the heat down, kick up the air conditioning, water the plants, and open the shades? How much more convenient could your life be if you could control everything in your home with your phone or computer?
A smart home automation system from Smart Home and Theater Systems can do all of that and much more! Our home automation systems will ensure that you won't have to deal with piles of remotes or controls scattered throughout the house any longer. When we give you a home automation, we ensure that everything works together seamlessly.
If you want a home automation system installed in your home, call us today at 1-800-948-8190 or click below to get a free estimate! We offer home automations in Westport, Stamford, Darien, Fairfield, Greenwich, Norwalk, Weston, Trumbull, Wilton, Milford and throughout the surrounding areas in Connecticut.
Products
Crestron is a pioneering, industry leading manufacturer of automation and control technology for both home and business applications. With numerous awards, an innovative spirit, and quality manufacturing, Crestron offers the best home control systems available.
Crestron Pyng™
Crestron Pyng™ technology is the award winning way to make you life easier than ever before! This home automation system gives you effortless control of lights, shades, audio, thermostats, and numerous other devices. With Pyng™, you home will work together flawlessly to deliver a fast, efficient, and simple home automation system.
With Pyng™, you can control many of your home's systems from your phone, computer, or tablet. Custom your home automation to fit your lifestyle by controlling all of the following:
Lighting: Control your lights individually or set an entire room
Shades: Lower one shade at a time or set multiple shades to close in a room
Thermostats: Stay comfortable by setting the right temperature and scheduling your termostats
Locks: Never worry about forgetting to lock the door with remote locking
Security: Arm your security system from your phone as you leave your house
Audio: Listen to music in any room or create party modes with SiriusXm, Pandora, Spotify, and more
If you want the ultimate in convenience and control from your home automation system, choose Crestron Pyng™.
The many benefits of home automation
Don't forget the cloud!
Cloud integration from Pyng™ technology supports powerful cloud-based services that enable you to:
Restore the system if the hub fails
Revert to earlier settings if you don't like changes
Monitor device status, such as "online" or "offline"
Display logs of every load, device, and keypad button press
Add new features or devices remotely
Access, update, and support home systems from anywhere at any time
Order custom engraving for keypads
Choosing home automation from Smart Home and Theater Systems offers serveral great benefits to you, including:
Fast and easy luxury: Crestron Pyng™ technology supports countless quality products and seamlessly integrates seamlessly with virtually any third-party technology, allowing you to create the one-of-a-kind customization that's normally seen in upscale homes.
Design with total freedom: Pyng™ technology can control almost anything you want in your home -- and won't interfere with anything you don't. Choose from a wide array of wired and wireless dimmers, switches, keypads, shade motors, thermostats, sensors; streaming radio services, multi-room audio, centralized lighting control, ONVIF cameras, door locks, security systems, ceiling fans, touch screens, and more. Pyng™ technology makes it easy to pair devices together in minutes and start customizing scenes and settings.
Fast custom automation: Your Creston integration professional will complete your Pyng™ system in a fraction of the time it takes for other "custom" solutions that require an on-site computer programmer. Pyng™ technology ensures you get world-class automation without the awkward house guest.
Lightning-fast deployment: Adding a Pyng™ hub to any Crestron system will speed up configuration and allow you to personalize your settings at any time. The hub connects Pyng™ supported devices and continuously backs up all home settings to the cloud -- making changes is easy and secure. Have a new device? Simply open the app while connected to the home Wi-fi and you're on your way to an easy sync.
Homeowner adjust-ability: Once the initial set up is complete, anyone can easily modify settings or create new scenes right from the app. Experiment with new changes with the confidence of knowing all your original settings are backed up in the cloud. Pyng™ eliminates continual requests to modify lighting scenes, change daily scheduled events, or change button names -- allowing you to make those changes when you want.
Home Automation Examples
Indoor options:

You and your spouse in have settled in for the night and are comfortable and relaxed. From your bed, you reach over and set your smart home system to "night" mode. The lights in the home switch off, the skylights in the bedroom open, and the doors lock securely. The appliances and HVAC system adjust accordingly with our green automated smart home design. When you wake up, you know you can expect the smart home to wake you up, play some light music, and have a fresh pot of hot coffee ready for you. Your morning shower can be programmed to personalized settings that can include the water temperature, showerhead position, music selection, and many other settings. What a great way to end and begin the day!
---
Outdoor options: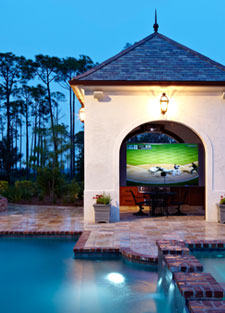 You're enjoying a pleasant gathering with friends in your yard when your sprinkler system suddenly kicks in to water the lawn, interrupting the party. With a smart home system, you don't have to worry about forgetfulness. Because your entire home is working as a team, the irrigation system knows that you're playing music on the back patio, assumes that people are in the area, automatically reschedules your watering until the morning. In fact, your lawn irrigation system keeps track of many factors. If the lawn is already wet, it will wait until it's dry to water the area. If the earth is dry but your smart home system reports that rain is on the way, it'll wait a couple hours to see if the watering is really necessary!
Upgrade your home with a home automation system today
If you want to enjoy the convenience of home automation, Smart Home and Theater Systems is here to help! The Pyng™ home automation system will completely transform your home, giving you easy control over all your systems.We offer free estimates on all our work, so call us today to get started! We install all types of smart home residential solutions in Westport, Stamford, Darien, Fairfield, Greenwich, Norwalk, Weston, Trumbull, Wilton, Milford and throughout the surrounding areas.
Looking for a price? Get a no cost, no obligation free estimate.